Solution Engineering Executive/Pre-Sales
Reageer nu!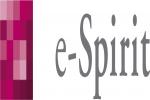 Corporate Introduction
e-Spirit is a leader in enabling companies to unlock the value of digital content and transform the way they communicate with customers and employees. With our Corporate Content Cloud approach we are supporting our customers with their digital transformation efforts. Using the industry leading FirstSpirit™ content management system, organizations worldwide can connect all of their people, systems and applications to the centralized, real-time data, assets and information necessary to publish content with total accuracy and relevancy across all channels and devices.
If there's one thing that defines e-Spirit as a company it's this: focus. We are focused on providing the absolute best content management solution possible so our customers can offer their audiences a seamless online experience. This focus means that we're not interested in building ERP or CRM software, or going out acquiring a bunch of companies for the sake of rapid growth. No, our passion is being the best at what we do, and that's content management software. We are proud to have clients like Media-Saturn Holding, Santander Consumer Bank, Schaeffler Gruppe, ThyssenKrupp, Airbus, Nintendo Europe or the Robert Bosch organization.
Over the years, this philosophy has connected us to like-minded customers and partners who similarly believe that "best-of-breed" offers are the best foundation for long-term success. As a result, we have consistently driven innovations that benefit customers such as class-leading usability and easy integration with portals, back-end system and cloud apps through tools like AppCenter. Customers can count on us for a clear road-map for the future and to keep current with the rapid pace of digital transformation.
Functie Solution Engineering Executive/Pre-Sales
The Solution Engineering Executive/Pre-Sales supports the Sales process. His (or her) mission is to ensure that e-Spirit becomes the preferred vendor of a given prospect. She provides pre-sales technical and business support to the direct sales account team across vertical markets, matching specific customer business requirements with effective technical solutions consisting of all e-Spirit products and services.
In this capacity, the Solution Engineering Executive:
• As a trusted advisor gather information regarding a client's current situation and requirements
• Be responsible for proposal content preparation and solution definition and performing functional and technical activities during the sales cycle
• Provide best in class templates for RFI/RFP responses , perform concept- and solution presentations and propose and demonstrate technical solutions
• Support the lead generation process through participation in trade exhibitions and demonstrations
• Provide market intelligence to enhance sales campaigns
• Advise on technical product and process issues within the Solution Engineering team.
• Participate in product development and go on client visits
• Be involved in management and hands-on execution of PoCs (proof of concepts)
• Planning and holding presentations at clients
Profiel Solution Engineering Executive/Pre-Sales
• Minimum of 3-5 years' demonstrable experience as a presales, preferably experience in the field of CMS
• Experience in interacting with CIO, CEO or VP level clients. Ability to articulate business (and technical value) of
e-Spirits solutions
• Knowledge or interest in content management and marketing trends and innovation is a pre
• Self-motivation, complex problem solving skills, ability to work with little direction
• Excellent interpersonal, presentational and communication (verbal and written) skills
• Clear report-writing skills in Dutch and English, Understanding of German is a pre
• Motivated self-starter who is customer focused, highly flexible, ambitious, and a problem solver
• Strong time management skills, able to prioritise tasks and deliver results
• Ability to analyse customer's business, data, and engineering requirements and relate them to e-Spirits product functionality
• Ability to manage and work within bid-teams consisting of a diverse set of functional and technical disciplines
• Willingness to travel (main focus is the Netherlands)
We offer
On top of an competitive salary package, a challenging international work environment and the possibility to learn and grow in your personal and professional life.
Interested?
If you are interested in this excellent opportunity and want to hear more about it, please contact our Managing Partner, Mrs. Henriette Oppenheim at henriette@grassgreenereurope.com or call our office at +31.165.521004.

Want to apply? Click the apply/solliciteer button here or on our website!
Contactpersoon